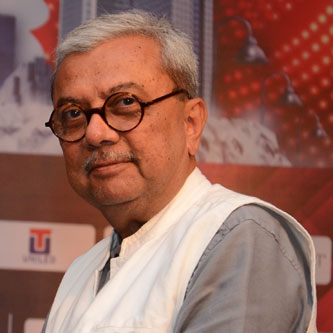 Directors Profile
Nitin Killawala
Nimit Killawala




Download Curriculum Vitae
Download Photographs

Our Practice
Back to About us

Nitin Killawala
(Director)
Professional Record
Education
1970 - 74
Bandra School of Art, Mumbai.
Work Experience
1974 - 78
Mody & Colgan Architects.
1984 onwards
Director, Group Seven Architects + Planners Pvt Ltd.
Advisory Roles

Former Academic Council member
School of Interior Design, CEPT University, Ahmedabad.

Former Academic council member
Kamla Raheja Vidyanidhi Institute of Architecture + Environmental Studies.

Former Managing Committee Member - JVPD Association, Juhu Scheme, Mumbai.

Past President of IIID (Institute of Indian Interior Designers).
Group Seven Architects and Planners Pvt Ltd was formed in Partnership with Avinash Joshi and Himanshu Upadhyay. Over the years the group has successfully completed a diverse range of projects ranging from Private Residences to Housing Complexes, Research Centres to Corporate offices and Educational Institutes to Spiritual Campuses.
He is a recipient of various National level awards including the, IIA ( Indian Institute of Architects ) as well as the IIID ( Institute of Interior Designers ) for excellence in Architecture + Interior design respectively.
In 1996 he was the recipient of the prestigious J.K. 'Architect of the Year' award. His works have been widely published in several periodicals as well as Design magazines.
His recent pre -occupations include an active involvement in the campaign, for an integrated transport plan for the city of Mumbai. He is also instrumental in revitalising public spaces and parks such as the pedestrian subway at Dhobi Talao Junction and The Pushpa Narsee Park within his own neighborhood in Juhu, Mumbai.
He strongly believes that the benefit of design should percolate to the masses, where the issue of slum housing must be treated at par with the newer infrastructure projects, rather than being left to speculative real estate developments.